Kayaking Thetis Island is made easy from  Cedar Beach Ocean Resort , two ferries away from the British Columbia mainland.  We arrive at 120 Clam Bay Road on Thetis Island via Departure Bay ferry terminus.  We drive south less than an hour to Chemainus for the 33-car-load crossing.  A world away.
1.  Accessibility
Owners, Andy and Virginia Lamb, are a 10-minute drive from the ferry (they do pickups unless you drop anchor at one of their two moorages in Clam Bay).  We've brought our double Feathercraft kayak.  The Lambs have an assortment of craft, and a gently-sloping put-in.
Virginia, and her sister-in-law, Dee Smith who is a fused-glass jeweler, make us welcome.
2. Expertise
Andy Lamb co-wrote Marine Life of the Pacific Northwest: A Photographic Encyclopedia of Invertebrates, Seaweeds and Selected Fishes with Bernard P. Hanby, a 25-year labour of coastal love.
Thanks to Cedar Beach Ocean Resort's online tutorial, we identify two treasures seen in coastal waters: the 'Fried Egg' Jellyfish with its scalloped bell and sunny-side-up disposition, and the Annual Sea Asparagus, one of 530 seaweed types found in BC's bio-diverse waters.
Even though Andy's not here to give one of his informative beach walks (away following his passion of scuba diving), we walk through his online lecture on inter-tidal marine life, and see a 'smack (group) of jellies'— learn how First Nations used a red seaweed 'Turkish Towel'—and how to overturn rocks (and turn them right back) lest we ruin some critters' day.
3. Delectibility
Virginia prepares saliva-flowing home-made pizza (multi-toppings on demand), fresh crab-and-shrimp with corn and garlic bread and salad, Swedish pancakes, lox bennies, carrot cake and chocolate cookies and pie (not all in that order!)— with Thetis-brewed (at Pot of Gold Coffee Roasting Company) Swiss-water decaf (or fully-caf'ed for more jive in your java).
Where else can one find hot tub, sauna, ensuite bathroom, wifi, and three-meals-a-day in a dog-friendly locale?
4. Chart It
All-the-while, we study our chart on how to get to the southeast horizon.
With light outflow winds at our backs, we cross Clam Bay and the northeast point of Thetis's sister isle, Penelakut (home of the Penelakut First Nation people), to the east-facing shores of privately-owned Norway Island, North Secretary Island, and its 'buy-me-for-a-cool-4-mill' southern equivalent.
We cut past Chivers Point at Wallace Island's Marine Provincial Park to the west-facing shore.  We drift past seal haul-outs until Conover Cove, where historic cabins existed through the '40s, '50s, and early '60s.
Diligent visitors, who aren't stretching their legs along the shaded trail, carve bits of driftwood.  They decorate them with resolutions for the archival display in one of the shacks leftover from David and Jeanne Conover's resort days.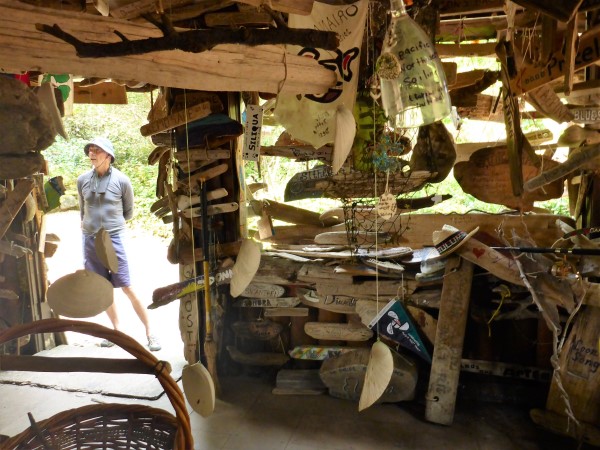 After a swim, lunch, and inter-island chat, it's back along sheltered-western-shores.
5. Ready for Plan B
The wind picks up the next day, thwarting our Thetis Island circumnavigation.  We're content with a three-hour out-and-back through 'the cut', which was once a mud flat until dredged into 'Canoe Pass' in 1905.  We spot 'fried egg' jellies and two eagles on the beach.
We've 'cut through' at low tide to Telegraph Harbour Marina via Thetis Island Marina Pub from Clam Bay, letting the ferry pass before slowing to a standstill.  Postponing our picnic for Pilkey Point (by car), we see what the fuss was about.  Wave action fit for fun sailing (not kayaking)!  On a more typical wind-sheltered day, there's fine swimming off the rocks.
Jollity Farm produce, Domaine Jasmin Pinot Gris and Pinot Noir and Thetis Island Nature Conservancy (Thinc') make us
think,  "We'll be back to Cedar Beach Ocean Resort, the perfect put-in or pull-out."