British Columbia Travel Writers are thrilled to welcome Taste Vancouver Food Tours as a new industry member.  Our host, Brent, takes us on Taste Vancouver's Gastown Food Tour.
In the warmth of red-brick-and-stone buildings (as was the by-law after Vancouver's Great Fire of 1886) we taste our way down Water Street.  From Waterfront Station's first Starbuck's outside Seattle (post Expo '86) in the old CPR Station (1914)…we begin with a sip of lemonade.  And then, it's over to…
Steamworks Pub & Brewery  overlooking Burrard Inlet, with its visibly strutted Douglas fir ceiling.  We descend to brewing station central (just above miles of submerged steam pipes): masher/kettle/fermenter/cooler/separator: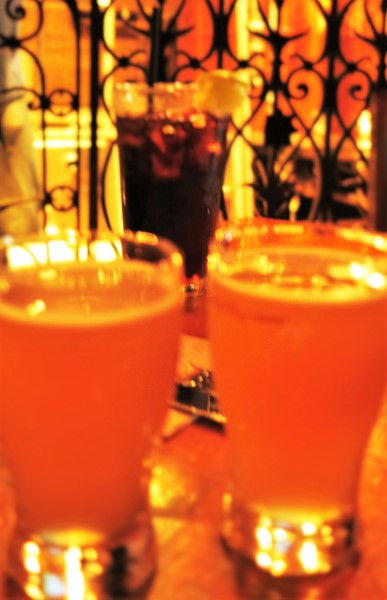 and enjoy our carbonated drinks!
Our first food stop is Brioche.  Famous for its Italian dishes with a West Coast flair, chef Eduardo named it for a brioche bread with a scoop of gelato.   We enjoy tortellini with some of that famous crusted bread to mop up.
Beer-battered fish with hand cut chips at 131 Water Kitchen & Bar seems like health food after Brent tells us that the frontiersmen used to 'eat up' whiskey, tobacco and beer.  Whether on the courtyard or in the mezzanine, they've got classics with a twist (and good ol' board games).
We swing by David's Tea for the alluring aroma of their multi-flavoured brews.
Brent feeds us more about Gastown's Gassy Jack aka John Deighton.  Gassy arrived from New West with his family and a keg of whiskey in a dugout canoe and offered the loggers, hunters, fishers, and miners as large a swig as they could glug, if they helped with the 'bar raising'.  One day later, it was done.
We munch pulled pork sandwiches and deep-fried dills near Maple Square at Peckinpah, a Carolina-style barbecue.  Connor sashays out with a food- tray-full and regales us with happy-lives-of-pigs-and-cukes tales.  Their smoked meat is made daily; their fried pickles are unlike any other.
Come on back (y'all) to savor one of their whiskeys, a famous mac & cheese or a Cobb salad in the Edward Hotel, Byrnes Block (#2 Water Street) formerly the Regina Hotel: one of the Great Fire's few survivors.
The Birk's Clock is run on some of that steam power of the brewery, and was one of the first aesthetic touches to spruce up Gastown after a 1960 Project 200 plan to run a freeway and skyscrapers along Vancouver's waterfront was scrapped.
At Bao Down, we meet Chef Carleton whose Asian-fusion shiitake-kale-and-sprouts 'bao', or steamed bun, is heavenly.  We hear the kimchi fries are as good, but we'll just have to return to find out as our tanks are running on full, and now there's dessert…vroom, vroom.
Soft Peaks ice cream is organic soft serve with no artificial sweeteners.  It's made with Avalon milk and you can choose toppings like Tim Tam Biscuits made by Arnott or local honeycomb.  Our sample has a chocolate drizz.
Trees Organic Coffee is known for its cheesecake and we're treated to a lovely raspberry smoosh.  Try some roasted organic fair trade coffee…next time.
Canadian Maple Delights features over 100 maple products.  We zone in on three of the five Quebecois syrup classifications in little thimblefuls:  the early season (slow sap is 40 gallons sap to 1 gallon syrup), the medium goes well with pancakes & waffles, and the strongest 'amber' is followed by their most-popular seller, the maple cookie.
Rogers' Chocolates, the oldest chocolate company in Canada, presents us with a piece de (ir)resistance: a lovely vanilla cream dessert truffle.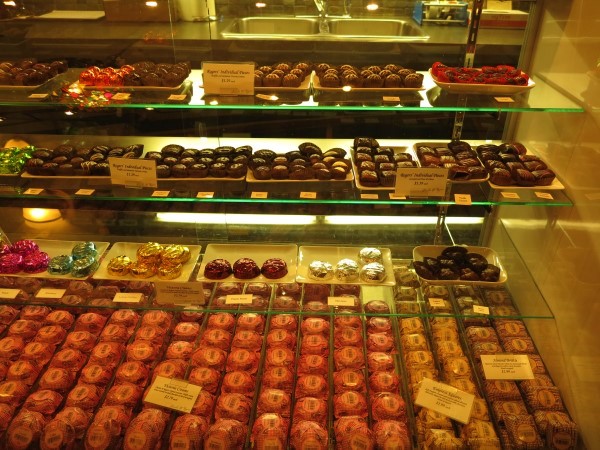 Many of us tuck it away for later to savor what Taste Vancouver  proffers:
a 2.5-hour tour through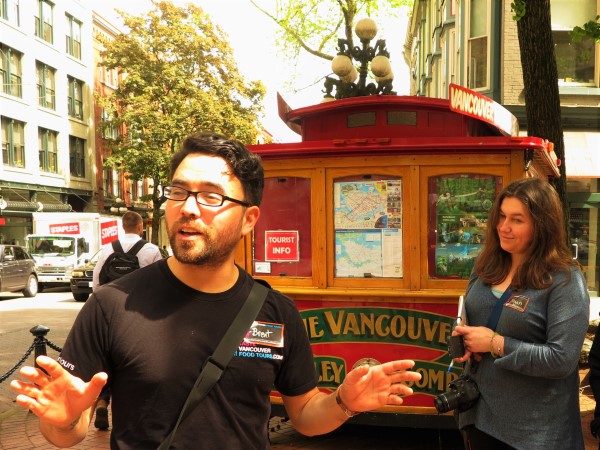 Vancouver's oldest neighbourhood with Brent, a professional actor (whose every word is clear, even with traffic noise echoing off the brick-and-stone), charismatic and charming as the pioneer days he describes.
Taste Vancouver Food Tours welcomes visitor and local foodies…year round.  Try their Little Italy Food Tour or their specialty tours.